RealDownloader Download videos from the Web
Use RealDownloader to download, bookmark, and share internet videos.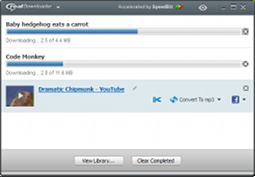 Monitor progress and control video downloads
When you click the "Download This Video" button and start a download, RealPlayer Downloader's control panel opens. You can monitor progress of your video downloads, as well as pause and cancel the downloads.
Multi-task while downloading videos
While downloading a video, you can minimize the screen and put it out of sight to do other things. You can watch other videos on the browser, and use other features in RealPlayer while the video downloads in the background.
Download multiple videos at the same time
No need to wait for a video to complete downloading to start download of the next video. RealPlayer Downloader let's you download mulitple videos at the same time.
Post download controls - Playback, Convert, Copy, Share
Launch the playback window, convert file formats, export to iTunes, share on Twitter right out of the RealPlayer Downloader control
Keep all your favourite videos in one place
Not only download, you can bookmark videos from thousands of websites and access them quickly and easily from your RealPlayer library. Now you can keep all of your downloaded and bookmarked videos in one place, making it easy to organise, watch and share your favourite videos whenever you want.
To use RealDownloader
Download the Basic Player
Play. Download. Bookmark. Organize. Share.
Play almost any video file format easily
Download and bookmark videos from thousands of websites with one-click. Expand your video library!
Convert videos to the format of your choice
FREE DOWNLOAD
Version: 16.0.3.51 | Updated: Aug 22, 2013
RealPlayer Basic features are free.
Premium Feature - "Download Videos Faster"
Download videos up to three times faster
You still get one-click download from hundreds of Web sites. But, the premium version is three times faster, which means three times the fun.
Feature Overview
Up to 3X faster than normal downloads
Parallel downloads to speed up performance
Full utilization of your Internet connection